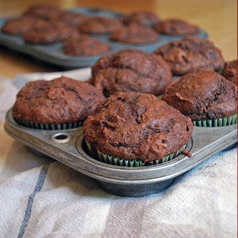 Beet Muffins Recipe
Beet Lady
Chocolate Beet Muffins
Ingredients
1 10 oz bag of bittersweet chocolate chips, divided
¼ cup butter
1½ cup all-purpose flour
½ cup whole wheat flour
2 teaspoons baking powder
1 teaspoon baking soda
½ teaspoon salt
1 cup chopped pecans
2 eggs, lightly beaten
¾ cup brown sugar
1 cup beet puree
1 teaspoon vanilla extract
⅔ cup Chobani plain non-fat greek yogurt
¼ cup milk
Instructions
If you haven't already, prepare the beet puree. (Select 2 medium sized beets, you want 1 cup worth of puree so give it your best guess.)
Trim off the beet greens and give them a good scrubbing under water. Microwave for about 10 minutes (add or take a minute depending on size) in a

microwave safe

dish, covered, with a splash of water. Test for tenderness by pricking with a fork. Let cool.
Using a sharp knife, carefully slice off the skins on all sides. Chop into chunks and blend it up with a blender. You may

needed

a little bit of water to help puree it.)




Preheat the oven to 375F. Prepare muffin tins with paper liners.




In a small saucepan, melt

⅔

cup of chocolate chips and butter over low heat. Stir occasionally, until melted. Remove from heat and set aside.




In a large mixing bowl, combine the flours, baking powder, baking soda, salt, pecans, and the rest of the chocolate chips.




In a separate bowl, whisk together the eggs, brown sugar, beet puree, vanilla extract, yogurt, and milk. Stir in the melted chocolate.




Finally, carefully stir the wet ingredients with the dry ingredients until just combined. It should look very fluffy. Don't over mix them. A few streaks of flour is fine.




Spoon mixture into the prepared muffin tins, fill the cups to the top. I got 16 muffins.




Bake for 18-20 minutes. Test for doneness by inserting a toothpick into the center and when pulled out should be clean. Or lightly press down on the top of a muffin and it should bounce back up.




Let them cook for at least 5 minutes before handling.