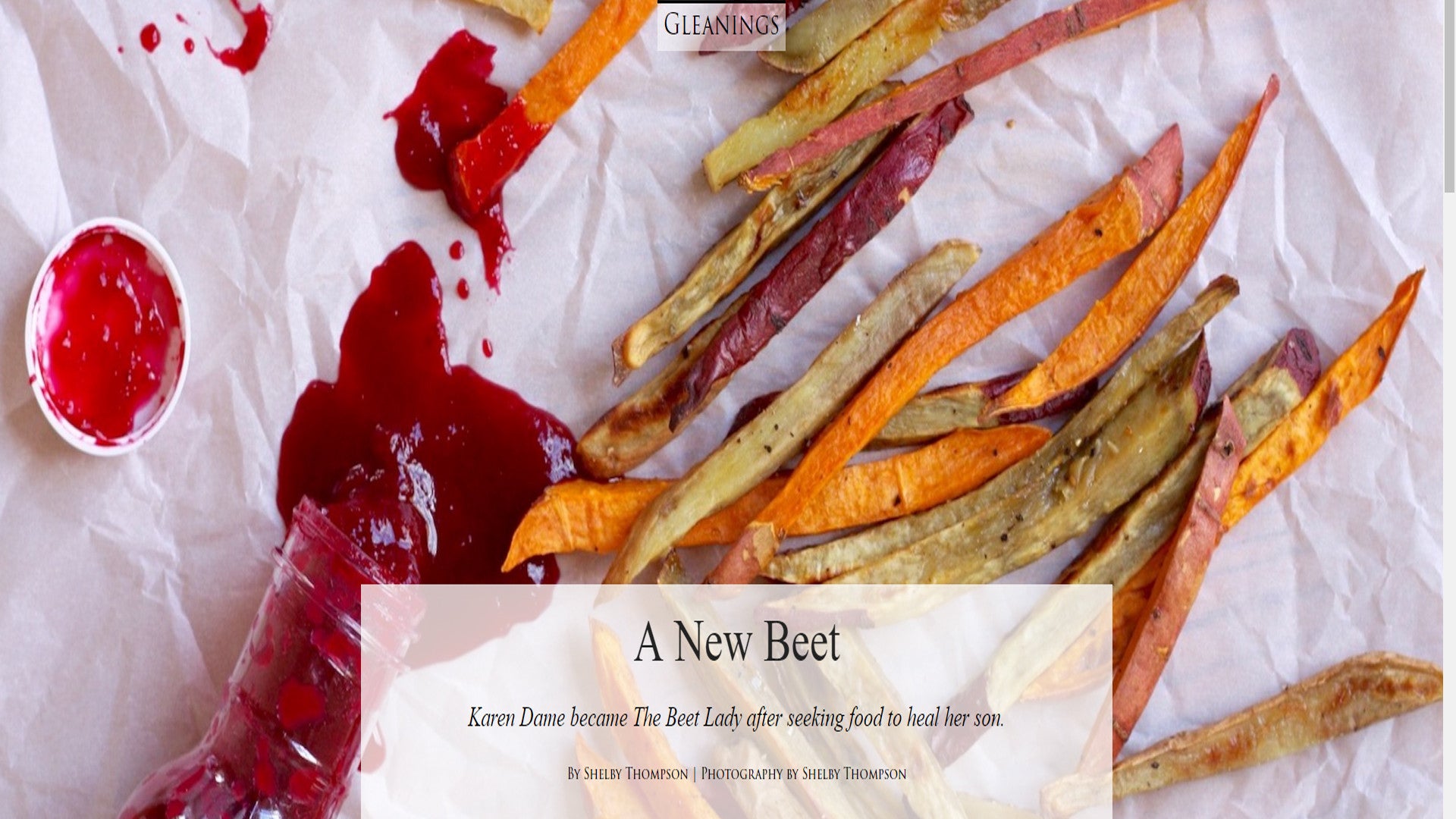 Edible Baja Arizona Magazine Interviews The Beet Lady
Beet Lady
Edible Baja Arizona Magazine
January/February 2017
By:  Shelby Thompson
Nine years ago, Karen Dame couldn't have predicted that she would one day be known as The Beet Lady. Dame's inspiration for her blossoming beet ketchup and marinara sauce business? Her son, Cullen.
In 2007, Cullen suddenly developed a severe illness that, among other things, left him unable to process many of the foods he had always eaten. As doctors and specialists attempted to pinpoint the culprit of Cullen's acute sickness, Dame struggled to find foods that her son's body wouldn't reject. Dozens of digestive health books and four holistic nutrition certifications later, she came to one conclusion: nightshades were out. Produce such as bell peppers, tomatoes, and potatoes that Dame had been cooking with for years now made her son violently ill.
Dame began to re-create Cullen's favorite foods in hopes that she might return to her son some of the normalcy he had so quickly lost. She began with ketchup and marinara sauce, two family staples, and started at the root: beets. "Beets are anti-inflammatory, high in vitamins A, B and C, rich in potassium, iron, folate, and manganese," Dame said. Sweet, dense, and versatile, they also happen to be the perfect substitute for tomatoes.
Tomatoes aren't the only thing missing from Dame's ketchup and marinara sauce. The recipes call for coconut sugar in place of highly processed corn syrup, real onions and garlic rather than the more common dehydrated variety, and absolutely no "natural flavors." (She lists "love" as the first ingredient in each of her products.)
As she learned more about holistic nutrition, joining communities on the Internet, Dame began to share her recipes with others who missed the simple pleasure of dipping a French fry in some good ketchup. "I'm very grateful to be able to share this with people who need it," she said.
After years of tests and treatments, Cullen was diagnosed with Lyme disease and is now able to undergo disease-specific treatments—at a high cost. And so, Dame and her son packed up their beets and headed to the commercial kitchen at Mercado San Agustín hoping that The Beet Lady products might help to pay for Cullen's expensive medical treatments. "Cullen is my business partner," Dame said.
Thirteen months after starting The Beet Lady, Dame is amazed by how successful it's been. While her original business plan was to sell directly to customers, Dame has been filling huge orders thanks to companies like One Stop Paleo Shop; she sells to more than 40 stores across the country. "I am of the philosophy that whatever opportunity comes my way … I will never say no," she said.
Still, the basis of The Beet Lady business model remains the same. Dame continues to hand-deliver her products to local customers to support their healing processes. "The business is coming full circle," Dame said, "because Cullen inspired these recipes and now they're helping to pay for his treatment." That's a beet everyone can tune to. ✜
Shelby Thompson is the online editor of Edible Baja Arizona.