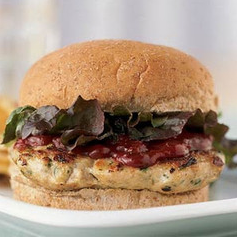 Cranberry Ketchup Stuffed Turkey Burgers
Beet Lady
Cranberry Ketchup Stuffed Turkey Burgers
All the flavors of Thanksgiving in a burger - what could be better?
Stuffed Turkey Burgers


SERVES: 2 (makes two huge burgers)
TIME: 20 minutes
* 1 tablespoon olive oil
* 1/2 cup finely minced onion
* 1 tablespoon very finely chopped fresh rosemary
* 3/4 pound ground turkey
* 1/4 teaspoon freshly ground pepper
* 1/2 teaspoon coarse sea salt
* 1/2 cup Classic Bread Stuffing
* 2 hamburger buns
* The Beet Lady Cranberry Ketchup
Heat the olive oil in a small skillet over low heat. Add the onions and rosemary and cook for about ten minutes, or until quite soft and sweet. Let the onion mixture cool a bit and then put in a large mixing bowl with the turkey, salt and pepper. Mush the ingredients together with a wooden spoon or your hands.

Form

a quarter of the mixture into a thin patty. Mound half of the stuffing in the center of the patty. Take another quarter of the mixture and form it into a patty and place on top, sealing the edges so that all the stuffing is snug inside. Repeat with the remaining turkey and stuffing.
Preheat your grill or broiler. Cook the burgers for five minutes on the first side, flip and cook for four more minutes or until the burgers are b

rowned and firm. Cut the buns in half and grill alongside the burgers. Spread the buns with The Beet Lady Cranberry Ketchup and add the burgers.