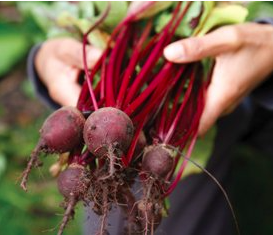 Red/Purple Produce is Best for our Weight and Heart
Beet Lady
Red/Purple Produce Is Best
For Our Weight And Heart
Choose This Color for Robust Benefits
N

ew research published in the European Journal of Clinical Nutrition has found the color of the fruits and vegetables we eat may affect our weight and heart health differently. The study followed 1,272 people over a three-year period, beginning in 2006 and 2008. The researchers compared their respective diets over both periods with levels of cholesterol, weight and waist circumference—all measures of obesity. The research grouped fruits and vegetables into red/purple, yellow, green, orange or white.
Among women, greater consumption of red/purple fruits and vegetables was related to lower weight and abdominal fat, lower blood sugar and reduced total cholesterol. Meanwhile, greater consumption of yellow fruits and vegetables was linked to weight gain over the same period.
Among men, the researchers found those that ate more red/purple fruits and vegetables had reduced weight and waists compared to those that ate other-colored foods over the three-year period by an average of 13 and 14 percent, respectively. Greater yellow fruit consumption was linked to lower total cholesterol levels. Green and white fruits and vegetables were associated with reduced abdominal fat gain over the three-year period.