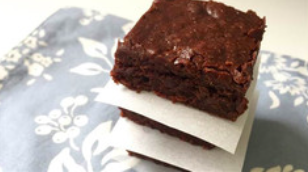 Beet Brownies Recipe
Beet Lady
Beet Brownies
Ingredients:
6 ounces semi-sweet chocolate, chopped
2 ounces (1/2 stick) unsalted butter
3/4 cup sugar
1 8-ounce can sliced beets, drained
2 eggs, lightly beaten
1 teaspoon vanilla extract
1/2 cup whole wheat pastry flour
1/4 cup cocoa powder, natural or Dutch-processed
1/8 teaspoon salt
Directions:
Preheat the oven to 350°F with a rack in the center. Line the bottom and sides of an 8 x 8 baking dish with parchment paper, leaving an overhang on two opposite sides.
In a large saucepan, melt the chocolate, butter, and sugar over low heat, stirring frequently until smooth. It will be slightly grainy. Remove from heat and allow to cool slightly.

Meanwhile

puree the beets in a food processor, then stir them into the chocolate mixture. Add the eggs and vanilla and stir very well.
Sift the flour, cocoa, and salt over the pan and stir until the batter is thick and glossy. Pour into the prepared baking dish and bake for 28-30 minutes, until the top is dry and the center is set. Cool completely in the pan, then

use

the parchment paper to transfer the brownies to a cutting board. Cut into 16 squares.