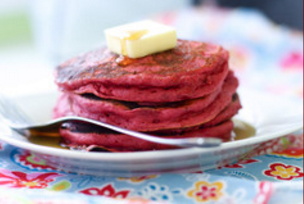 Scrumptious Beet Pancakes
Beet Lady
Beet Pancakes
Good Morning Beet Lovers!!!
Here's A Scrumptious Breakfast Idea.
Ingredients
1 Cup All Purpose Flour
¾ Cup Whole Wheat Flour
3 Tbsp Light Brown Sugar
1 Tbsp Baking Powder
½ Tsp Kosher Salt
2 Medium Beets, roasted & pureed (about ¾ Cups)
1¼ Cup Milk
⅓ Cup Plain Greek Yogurt
1 Large Egg
3 Tbsp Melted butter or coconut oil
1 Tsp Vanilla extract
Instructions
Sift the first 5 ingredients into a bowl.




Place the rest of the wet ingredients in a separate bowl and whisk thoroughly to combine.




Add the dry ingredients into the wet and stir until just combined (you don't want to

overstir

the batter — some lumps are good).




Drop about 2 tbsp of the pancake mixture onto a greased griddle or pan over medium heat and cook for 3 minutes on each side.




Serve with desired accompaniments- butter, syrup, honey or jam.




To freeze: Place the pancakes in labeled zipper bags and freeze for up to 3 months.