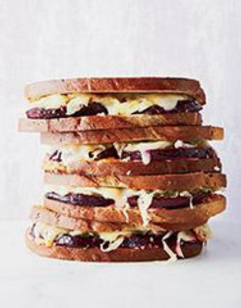 Smokey Beet Sandwich
Beet Lady
Smokey Beet Sandwich
Looking for a new twist on the typical lunch sandwich? How about a Smoky Beet Sandwich? Here's how.
INGREDIENTS
1 large beet (about 14 ounces)
1 tablespoon extra-virgin olive oil, plus more for brushing
Kosher salt
Freshly ground pepper
1/2 teaspoon coriander seeds, finely crushed
Smoked salt, for sprinkling
1/4 cup mayonnaise
1 tablespoon ketchup
1 tablespoon sweet pickle relish
1 tablespoon fresh lemon juice
8 slices of rye bread
Softened unsalted butter, for brushing
1/2 cup sauerkraut, drained and warmed
6 slices of Swiss cheese
1. Preheat the oven to 350°. Brush the beet with olive oil and season with kosher salt and pepper. Wrap the beet in foil and roast for about 1 hour and 15 minutes, until tender; let cool slightly. Peel the beet and slice crosswise 1/4 inch thick. Transfer the slices to a plate and drizzle with the 1 tablespoon of olive oil, then sprinkle with the coriander and smoked salt.
In a bowl, whisk the mayonnaise with the ketchup, relish and lemon juice. Season the Russian dressing with salt and pepper.
Preheat the broiler. Arrange the bread on a large baking sheet and brush with butter. Broil 6 inches from the heat until lightly toasted, 1 to 2 minutes. Transfer 4 slices of the bread to a work surface. Flip the remaining 4 slices on the baking sheet and top with the beet slices, sauerkraut and cheese. Broil 6 inches from the heat until the cheese is melted. Close the sandwiches, cut in half and serve.